New Art in Downtown San Francisco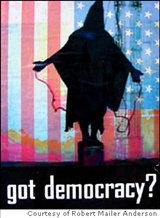 If you're going to be in San Francisco this week, check out the new street art. The downtown area has been papered with 'got democracy?' posters, questioning U.S. policy in Iraq:
In the past five days, the posters have appeared mysteriously on walls and buildings across San Francisco. They feature the most enduring image of the Abu Ghraib prison scandal -- the Iraqi man, hooded, his hands tied with electrodes -- but this time, the prisoner is set against an American flag, and this time, the image is juxtaposed with a headline that reads, "got democracy?"
The poster is designed to make people question whether the United States is adhering to democratic ideals if American soldiers have been guilty of widespread prison abuse, if the Patriot Act continues to trample civil liberties, and if Washington continues to instigate questionable policies, says the poster's co-creator, San Francisco novelist Robert Mailer Anderson.
Here's the author's reasoning: