Photo Frames SPC Charles Graner's Defense
Guy Womack, the lawyer for accused Iraqi prison guard Charles Graner, says this photo supports his defense that Graner and the other guards at Abu Ghraib were acting on orders from above. Womack says Graner will not plea bargain and that he plans to call several Generals in Graner's defense (WSJ, subscription only):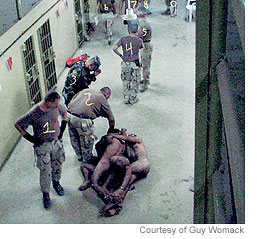 Spc. Charles Graner etched numbers into this photo in order to identify himself and others at Abu Ghraib prison. Spc. Graner is labeled No. 1 in the photo, which shows Iraqi prisoners bound together. According to Spc. Graner, No. 2 is a civilian contractor for military intelligence, Nos. 4, 5, 7 and 8 are military-intelligence soldiers, and Nos. 3 and 6 are military police. No. 9 is not identified.....If Spc. Graner's identifications are accurate, the photo is one of the few made public so far that depict intelligence personnel with naked Iraqis and not just military police. It could be key to determining who was in charge.
Charges against Graner were announced Friday.
Brig. Gen. Mark Kimmitt said the seven charges against Graner included conspiracy to maltreat detainees, dereliction of duty for woefully failing to protect detainees from abuse, maltreatment of detainees, assaulting detainees, committing indecent acts, adultery and obstruction of justice.
We assume the adultery charge pertains to Spc. Lynndie England's pregnant condition.
As we reported earlier, SPC Jeremy Sivits is expected to plead guilty next week and provide evidence against the other guards. According to the Guardian, Sivits will claim: