How the Candidates Differ On Immigration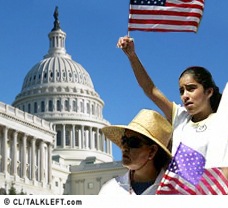 The Center for International Policy, a group whose mission is "promoting a U.S. foreign policy based on international cooperation, demilitarization and respect for basic human rights," has released two reports in the past month comparing the positions of the Republican and Democratic candidates on immigration, using their own words, statements on their websites and their votes in Congress. On the Republican side, McCain and Huckabee are included; for the Democrats, it's Hillary Clinton, Barack Obama and John Edwards.
The presidential candidates of the Democratic Party share a common conviction that the country badly needs comprehensive immigration reform that offers a path to legalization for the estimated 12 million illegal immigrants in the United States. The policy positions of the Democratic Party candidates—Hillary Clinton, John Edwards, and Barack Obama—stand in sharp contrast to those offered by the Republican Party candidates, with the partial exception of John McCain.
[More...]