New Hampshire Democratic Debate: Live Blog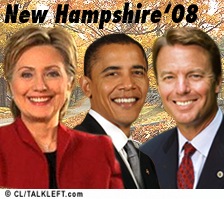 [
Update
: Debate transcript
here
.]
The ABC News debate is on tape delay for Denver, an hour behind the East Coast. But, it's streaming live on WMUR, New Hampshire. So, I'll live blog -- please join in the comments.
8:45 pm: The Democratic candidates came out to do a meet and greet with the Republicans. Rudy and Hillary chatted friend-like, he put his arm on her arm. She and Huckabee also had a warm little moment, he whispered something in her ear. Edwards and McCain were very warm to each other.
9:05: What is this? The debate starts with an ABC news clip? It's on nuclear prolifieration. After watching the clip, the question is how aggressively would you go after al-Qaeda terrorists in Pakistan? Goes to Obama who justifies what he said at one of the first debates. He moves from the defensive to the offensive against Bush but Gibson says he sounds just like Bush.
More...