New York Times Endorses Hillary Clinton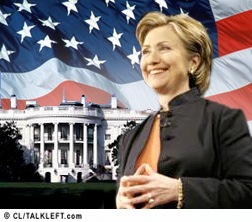 This is big. The New York Times has endorsed Hillary Clinton for President. It's no tepid endorsement. It "strongly recommends" her candidacy.
Big Tent Democrat just e-mailed me and said the endorsement sounds like something I would have written. Let's take a look.
First, it describes the top contenders.
Hillary Clinton, the brilliant if at times harsh-sounding senator from New York; and Barack Obama, the incandescent if still undefined senator from Illinois. The remaining long shot, John Edwards, has enlivened the race with his own brand of raw populism.
Then, it rules out John Edwards:
The former senator from North Carolina has repudiated so many of his earlier positions, so many of his Senate votes, that we're not sure where he stands. We certainly don't buy the notion that he can hold back the tide of globalization.
More...