South Carolina Democratic Debate Live Blog Part One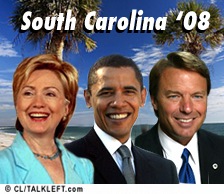 The debate starts now. I will be live blogging as much as I can. Jeralyn will be live blogging as well.
Please chime in with your thoughts.
Pre-game. Suzanne Malveaux and Joe Johns of CNN will be joining Wolf Blitzer with the questioning. Malveaux and Johns state that the focus of the debate will be the economy. But that all the others will be covered.
Update (TL): The applause was pretty equal at the beginning. They start with the economy. The first question goes to Hillary. It's a specific answer with details of her new economic plan. She contrasts it to Bush's plan, not the plan of the other candidates.
Obama:answers, beginning with a reference to Martin Luther King, Jr. He too goes after Bush but mentions Hillary's plan. He's not as confident as Hillary, but recovers when he is asked a question by Wolf Blitzer. Edwards is up next. Updates below.