Today's FISA Amendment News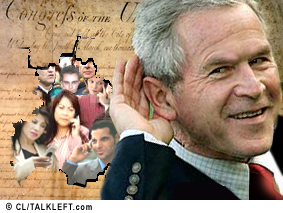 Scarecrow at Firedoglake and Marcy at The Next Hurrah are covering today's New York Times article suggesting that the FISA Amendment grants far more power than previously thought to intercept phone calls and obtain call and e-mail records of ordinary Americans not suspected of being involved in terrorism.
Broad new surveillance powers approved by Congress this month could allow the Bush administration to conduct spy operations that go well beyond wiretapping to include — without court approval — certain types of physical searches on American soil and the collection of Americans' business records, Democratic Congressional officials and other experts said.
I'd like to focus on one other aspect: deficiencies in reporting requirements. How will the American whose conversations, business records, call records or e-mails are intercepted by virtue of the FISA Amendment find out and how will they be able to challenge it? The answer, as far as I can tell, is they won't know about it and they won't be able to make a legal challenge. The ACLU describes the paltry reporting requirements here.
More...