Frank Rich : Republicans Enter Their Summer of Love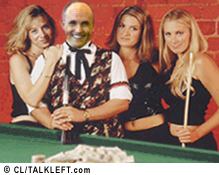 Frank Rich in today's New York Times (reprinted and publicly available here):
Forty years late, the party establishment is finally having its own middle-aged version of the summer of love, and it's a trip. The co-chairman of John McCain's campaign in Florida has been charged with trying to solicit gay sex from a plainclothes police officer. Over at YouTube, viewers are flocking to a popular new mock-music video in which "Obama Girl" taunts her rival: "Giuliani Girl, you stop your fussin'/ At least Obama didn't marry his cousin."

As Margery Eagan, a columnist at The Boston Herald, has observed, even the front-runners' wives are getting into the act, trying to one-up one another with displays of what she described as their "ample and aging" cleavage. The décolletage primary was kicked off early this year by the irrepressible Judith Giuliani, who posed for Harper's Bazaar giving her husband a passionate kiss. "I've always liked strong, macho men," she said. This was before we learned she had married two such men, not one, before catching the eye of America's Mayor at Club Macanudo, an Upper East Side cigar while he was still married to someone else.
Putting it in context: