More Drivin' Miss Judi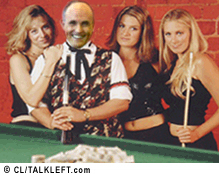 The New York Daily News reports that Judith Nathan received security from the NYPD for months before the affair went public.
Judith Nathan got taxpayer-funded chauffeur services from the NYPD earlier than previously disclosed - even before her affair with then-Mayor Rudy Giuliani was revealed, witnesses and sources tell the Daily News.

"It went on for months before the affair was public," said Lee Degenstein, 52, a retired Smith Barney vice president who formerly lived at 200 E. 94th St., Nathan's old building.
In January, 2001, Bernie Kerik said Judith received protection as a result of a threat in December, 2000. The affair became public in May. Now, the neighbors say she received sporadic protection since early in 2000.
Former neighbors of Nathan's, as well as a law enforcement source, describe a full-scale valet service at Nathan's beck and call well before the affair became public.
The Giuliani campaign now revises its story.
They said Nathan had received previously undisclosed "threats" earlier in 2000, and that protection was provided at those times.
One question: How could she need protection because of a threat before she was a public figure or publicly identified as the Mayor's girlfriend?