DA Drops Rape, Not Other Charges in Duke Lacrosse Case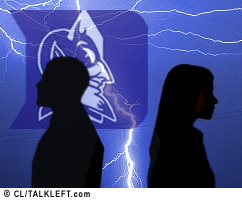 Embattled DA Mike Nifong has dropped the rape charges against the Duke lacrosse players.
But he's leaving the sexual assault and kidnapping charges.
Nifong said he plans to proceed with kidnapping and sexual assault charges against the three players....

Nifong's investigator interviewed the woman Thursday, and she told the investigator that she couldn't testify "with certainty" that she was raped. Prosecutors said they couldn't proceed without her testimony, so they decided to dismiss the rape charges in the case.
Nifong's motion states she is no longer sure it was a p*nis that was inserted into her, as opposed to an object.