Report: North Korea Threatens War Against U.S.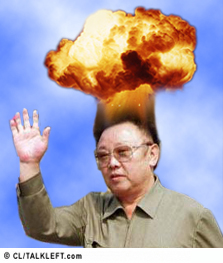 Via the Guardian:
North Korea is threatening war against the United States for its ``hostile attitude.'' As North Korea warned of physical retaliation for increased U.S. pressure over its reported atomic test, South Korea discussed preparations for a nuclear attack that could include an expanded conventional arsenal. North Korea said in its first formal statement since the test that it could respond to U.S. pressure with ``physical'' measures.

``If the U.S. keeps pestering us and increases pressure, we will regard it as a declaration of war and will take a series of physical corresponding measures,'' the North's Foreign Ministry said in a statement carried by the official Korean Central News Agency. The statement didn't specify what those measures could be.
[Hat tip Patriot Daily.]