CNN Poll: 52% Say Hastert Should Resign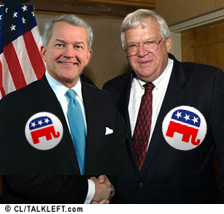 A new CNN poll finds a majority of respondents say Denny Hastert should resign over FoleyGate.
The poll, conducted Friday through Sunday by Opinion Research Corporation, found that 52 percent of the 1,028 adults interviewed think Hastert should step aside. Only 31 percent said they think he should keep his post, and 17 percent had no opinion. The poll's margin of error was plus or minus 3 percent. (Full poll results)
I agree but I hope he continues to follow his ego instead of poll results so the Dems can win by an even greater margin in November.
I guess "the buck stops here" doesn't have the same meaning it used to.