Frist Attaches Detainee Bill to Border Fence Bill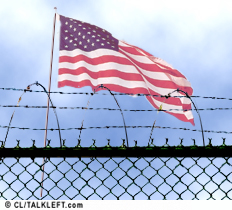 A vote on the bill to build a 700 mile fence across 1/3 of the U.S. - Mexico border could come on Friday. That's because Sen. Bill Frist has attached the bill on detainee treatment to the border fence bill.
The Senate is likely to vote first on the detainee portions, and then take up the border bill.
If Democrats agree, the Senate would debate detainee treatment first and a vote on the border fence could happen Friday. Democratic leader Harry Reid of Nevada said he believed he and Frist could work something out.
Several key Republicans remain opposed to the border bill. The Senate passed a version of it calling for 370 miles of fence, but the House didn't act on it. Instead, the House wants the Senate to pass its bill, H.R.6061.
What a colossal waste of money. Does Congress think it grows on trees? Let's forget about border bills and punitive immigration bills and enact more important legislation. Here is the Democrat's wish list: