U.S. Readies SuperMax at Gitmo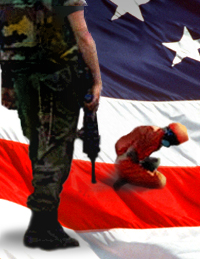 From SuperMax to GitMax. The U.S. is finalizing plans for the newest maximum security prison at Guantanamo. The Associated Press reports we are spending $37.8 million on the facility to house a maximum of 220 prisoners. That doesn't even include the upkeep or cost of confinement.
Underscoring the military's toughening stance, a jailhouse in the final stages of construction on a cactus-studded plateau overlooking the Caribbean is being "hardened" into a maximum-security facility. Camp 6 was to have opened in August as a medium-security lockup. The modifications have pushed back the completion date of the $37.8 million jailhouse, which has a capacity for 220 inmates, to Sept. 30. It will take its first detainees in mid-October, Army Capt. Dan Byer said.
How long will they be there? Forever.
"I think what we have here is an orange. What we're doing is squeezing out the juice and what we're left with at the end of the day is pulp that will just stay here," said Navy Capt. Phil Waddingham, lead officer here for the Office for the Administrative Review of the Detention of Enemy Combatants.
From a flawed policy to a disasterous policy. As op-ed contributor and former military man Paul Reikoff writes in the New York Times today, Do Unto Your Enemy...