Good Samaritan Migrant Aid Workers Arrested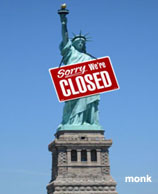 Here's an example of how tougher punitive immigration bills can be misapplied:
Prosecutors in Arizona have charged two volunteers who say they tried to save the lives of three sick migrants stranded in the desert with felony charges of transporting illegal immigrants. If convicted, Daniel Strauss, of Manhattan, and Shanti Sellz, of Iowa City, Iowa, both 24, could face up to 15 years in federal prison and a half-million-dollar fine.

...in court papers, the Border Patrol contended the work of the faith-based group No More Deaths was encouraging migrants to cross illegally into the United States. The agency also contended group leaders were warned volunteers could be arrested. The leaders dismissed the arguments as absurd.
Daniel Strauss had this to say: