On Prosecuting Leakers and the Media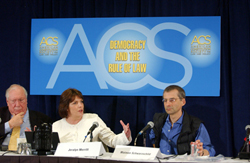 The video of the American Constitution Society's panel conference on leakers and the press is now online.
On June 17, ACS hosted a panel at the 2006 National Convention exploring the consequences of leaks of confidential and classified information by government employees and potential related prosecution. Panelists discussed government attempts to prosecute leakers and assertions that it can prosecute members of the press who report based on classified information. The panel also examined whether greater protections should be afforded journalists in protecting sources and the effect of leak prosecutions on debate in a democratic society.
The video is here. In the photo (larger version here): 9th Circuit Judge Stephen Reinhardt, me and conservative law professor Maimon Schwarzschild. Also on the panel were moderator and Law Professor Geoffrey Stone and media attorney Laura Handman. Happily, Professor Schwarzschild was outnumbered.