Report: Two Missing U.S. Soldiers Kidnapped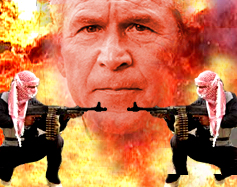 Very bad news from Iraq. The AP reports that a farmer in Iraq witnessed the kidnapping of two U.S. soldiers missing from Yusufiyah, a mostly Sunni town about ten miles south of Baghdad.
The White House promised to do everything it could to find the soldiers and said it had a message for anybody who may have taken the two men: "Give them back."

Gunmen, meanwhile, kidnapped 10 bakery workers in Baghdad, and a mortar attack killed four people in the capital. Police also found 17 bodies around the city, including four women and a teenager handcuffed and shot in the head - apparently the latest victims of sectarian death squads.
It has been more than two years since a U.S. soldier has been kidnapped in Iraq.