Web Users to Patrol Texas Border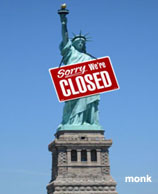 Texas moves one step closer to vigiliantism.
A US state is to enlist web users in its fight against illegal immigration by offering live surveillance footage of the Mexican border on the internet. The plan will allow web users worldwide to watch Texas' border with Mexico and phone the authorities if they spot any apparently illegal crossings.
And in Denver, a local radio host, Peter Boyles, takes donations and forms a company, Billboards Colorado, to put up anti-immigrant rights billboards around the city.
Better reading: Robert Lovato, Michelle Garcia and Salim Muwakkil in the new edition of the Nation.