Karl Rove Goes About Business as Usual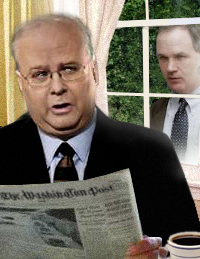 Karl Rove is going about business as usual. He met with the Republican rank and file today about immigration. This doesn't sound like a man who fears an imminent indictment, although, even if he did, what choice would he have but to carry on his regular duties?
The media also seems to be letting up on the attacks on Jason Leopold. Keith Olbermann on Countdown last night noted (as I did yesterday morning) that Jason Leopold beat the the New York Daily News by two months in reporting about Robert Grenier's connection to the Scooter Libby case. Jason's article was written March 18, the day after Libby's lawyers revealed it in a pleading.
Keith said: