Rove Waits on Pins and Needles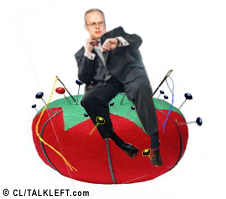 Bump and Update: This just in from Karl Rove spokesman Mark Corallo [via e-mail in response to a question I e-mailed him]:
Nothing going on. I was told by several journalists who were down at the courthouse that the Grand Jury was not meeting today. Of course, the GJ may be meeting at the undisclosed location (as VP Cheney is out of town and not using it today...)
Thanks, Mark!
Update: Truthout Executive Director Mark Ash issues a "partial apology" regarding Jason Leopold's Saturday article.
The time has now come, however, to issue a partial apology to our readership for this story. While we paid very careful attention to the sourcing on this story, we erred in getting too far out in front of the news-cycle. In moving as quickly as we did, we caused more confusion than clarity. And that was a disservice to our readership and we regret it. As such, we will be taking the wait-and-see approach for the time being. We will keep you posted.