Duke Player's Lawyer Seeks Recusal of DA for Case Improprieties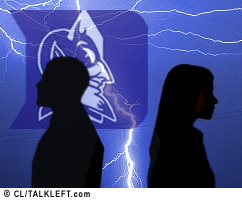 Accused Duke Lacrosse player Reade Seligman's lawyer filed a motion (pdf) today seeking recusal of the DA. It's a great motion, you should read the whole thing. It lays out the undisputed and disputed evidence, has new details, and alleges the D.A. was motivated by the primary election which is being held tomorrow and a desire to claim the national spotlight.
The motion also alleges he improperly injected himself in the lineup, causing the Durham Police Department to violate their own procedures which are embodied in a police department order.