Katherine Harris to Spend $10 Million and Stay in Race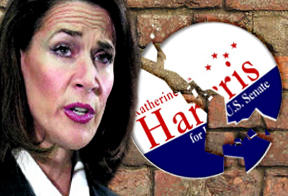 Katherine Harris will spend $10 million of her own money to save her fledgling Senate campaign. She has the money -- her father left it to her when he died in January. She made the announcement tonight on Hannity and Colmes.
Does she want to be Senator because she believes if she wins, the people of Florida win? I didn't see the show, but from the article linked above, it doesn't seem the people are her top priority:
"When I lost him, I said I would win this for my father," she said.
We all want our fathers, whether dead or alive, to be proud of us, but is that a reason people should vote for her? It wouldn't sway me if I lived in her district.
[Graphic created exclusively for TalkLeft by CL.]