Katrina: Michael Brown Blames Homeland Security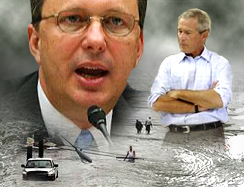 Former FEMA director Michael Brown testified before Congress today, despite Bush's attempt to block his testimony by asserting executive privilege. He blamed Homeland Security. Crooks and Liars has some video.
Mr. Brown said that homeland security officials were being regularly updated by reports delivered through video conference calls, and that he personally contacted White House officials.

"My obligation was to the White House and to make sure the president knows what's going on," he said, "and I did that." Mr. Brown's testimony provided the first detailed look into communications between emergency management officials and the White House.
He said claims the White House didn't know of the levee failures until the next day are "baloney."