Alberto Gonzales in the Hot Seat on Monday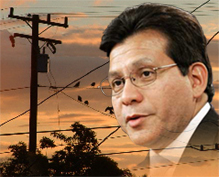 Bump and Update: Time Magazine outlines how Gonzales plans to defend Bush's warrantless NSA electronic surveillance program Monday. Time has received a copy of Adminstration documents outlining his defense:
According to the documents, Gonzales plans to assert in his opening statement that seeking approval for the wiretaps from the Foreign Intelligence Surveillance Act (FISA) court could result in delays that "may make the difference between success and failure in preventing the next attack." He will compare the program to telegraph wiretapping during the Civil War. In accompanying testimony, the Attorney General plans to leave open the possibility that President Bush will ask the court to give blanket approval to the program, a step that some lawmakers and even some Administration officials contend would put it on more solid legal footing.
***
Original Post:
Senate Judiciary Committee hearings begin Monday on Bush's warrantless NSA domestic electronic surveillance programs. The star witness is Alberto Gonzales. Here's some background and topics you can expect him to be grilled on: