Owen and Rogers Brown: From the Archives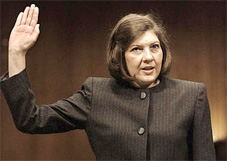 Criticism of Priscilla Owen and Janice Rogers Brown is not new, at least not on TalkLeft. From our archives, and worth re-reading:
Externally, these are good picks:
These judges are appointed for life. The D.C. Circuit, for which Janice Rogers Brown is a nominee, is considered a direct line for a seat on the U.S. Supreme Court. If you care about preserving the integrity and independence of the judiciary during your children's lifetimes, get on the phone now and let your Senators know you oppose any compromise on these nominations. You can reach them all at 202-224-3121. Direct line numbers are here.